WooCommerce POS RFID Card Add-on
WooCommerce POS RFID Card Add-On provides the customers with a feature to pay using the RFID cards.
The customers will have to tap their RFID cards at the RFID reader device to complete the payment process.
The POS agents can assign or update the RFID of the customers.
They can also view the credit balance, search for customers or even register a customer with the help of the RFID card.
Note
This Item only works with Webkul's Point of Sale System for WooCommerce (POS Plugin). Hence the POS Plugin is Required, to make use of this Plugin.




Why WooCommerce POS RFID Card Add-on?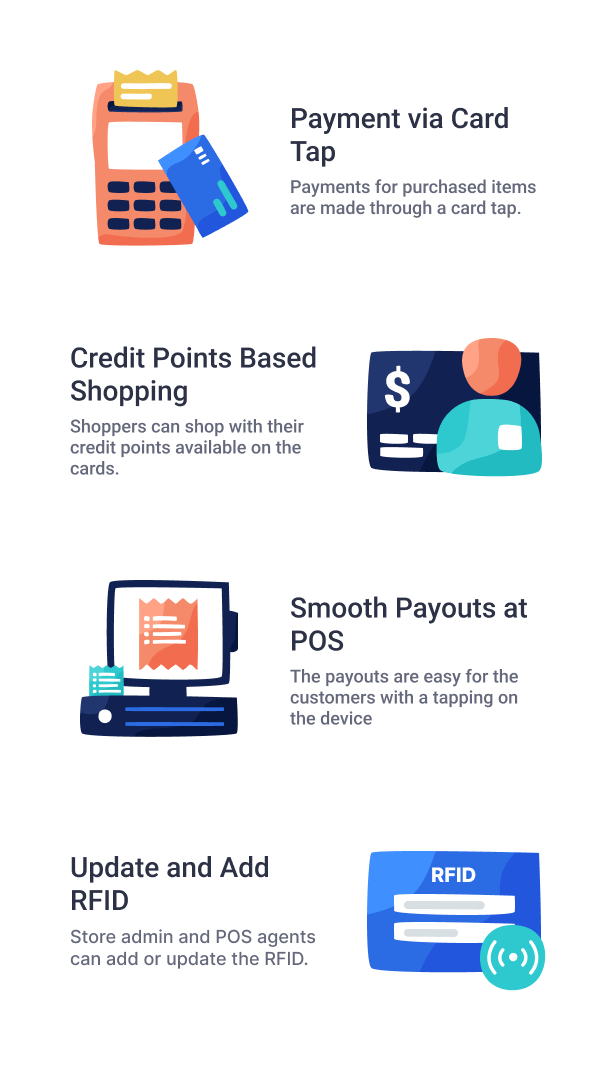 Support
Dear Customers, if you have a question/query, please raise a ticket at webkul.uvdesk.com. We will do our best to answer as quick as it is possible. Don't give us a low rate without contacting support on the issue you've faced with. We are always happy to help you.
Features of WooCommerce POS RFID Card Add-on
At the POS counter, customers can pay directly using their RFID cards.
The RFID cards can be updated or added by the POS agents.
POS sales representatives can also view the card balance for credit scores.
RFID can be added or updated by the store admin.
To find a customer POS agents can use the RFID card.
Highlighted Features
1- Pay Digitally & Earn Credit Score
The customers can pay digitally with their credit scores assigned to them.


2- Quick Payment Process
It is convenient to make payments with RFID cards with a card press.


3- Utilize RFID Card to Pay
The users do not need to carry any cash or other cards as they can pay using their RFID card.


4- Card Balance Monitoring
The POS sales agents can tap the card and view the available credit balance.
POS Sales Agent Workflow
The POS agents can view the customer details by tapping the card on the device.
This will display the RFID of the customer with the remaining credit scores.
The POS sales agents can add or update the RFID of the shopper.
Customer Workflow
The customers will put the card on the card reader device to proceed with payment.
Customer details with RFID and credit points will display to the POS agent.
The payment will take place and a receipt will generate after payment.
Business Use