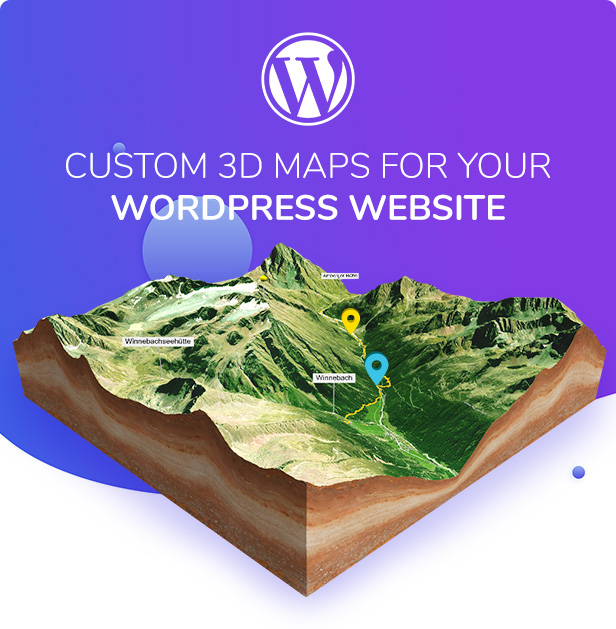 3D-Mapper WordPress Plugin
The 3D map is much more than a simple picture on your website! A 3D map is much more than a simple picture on your website! 3D Maps provide a realistic depth that enables your visitors to see into spaces, experience the movement of light and shadow, and gain a more complete understanding of environments and locations being shown.

This better understanding can be used by the viewers to estimate distances and geographic conditions more precisely. With location labels, markers and your own GPS tracks, a 3D map on your website can become an awesome experience and arouse greater interest of your visitors. Present locations as 3D maps – animated, interactive, editable. All dead easy but accurate like a pro!

The 3D-Mapper plug-in for WordPress helps you, whether you are a beginner or an experienced web designer, to easily create a custom 3D maps and add them to your own website – all without any code! With just one click you can import the 3D maps into your WordPress website. The maps still contain all the settings that you previously saved in the editor. However, you can change all parameters (except labels and pins) with the plugin at any time and adapt them to the website.
HOW TO ADD 3D MAPS TO YOUR WORDPRESS WEBSITE
With the 3D-Mapper WordPress plugin you can add your own 3D map to your WordPress website in just a few steps:
Download the plugin from Codecanyon
Upload the plugin to your WordPress installation
Import the session or your own images
Adapt the map to your needs
Add the map shortcode to your website
Done!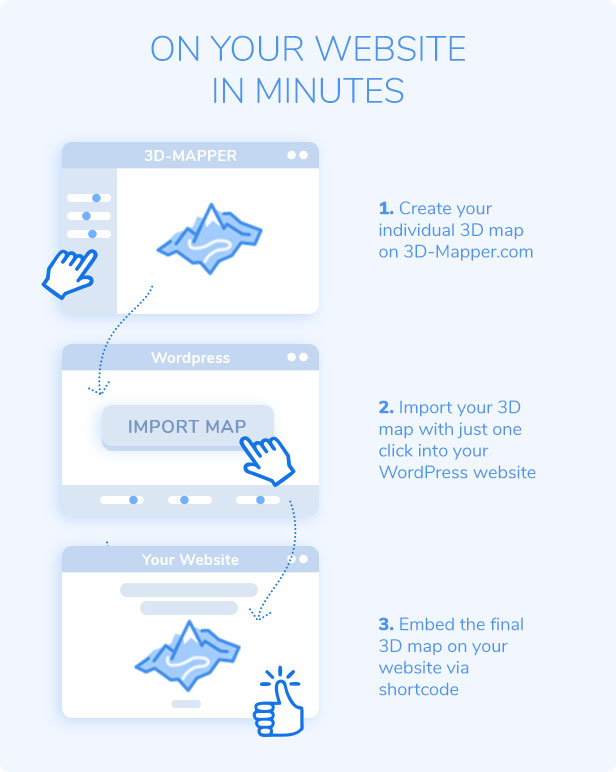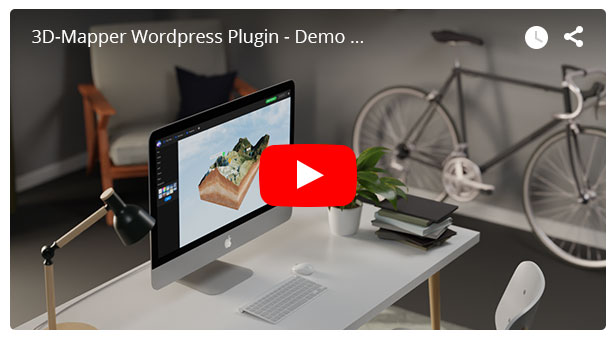 3D-MAPPER FEATURES
Several search options
gpx file import (.gpx and .kml)
Different map tile sets (OpenStreetMap, OpenTopoMap, Outdoor, Satellite, Satellite + Streets)
MAP EDITOR FEATURES
Map height
Map rotation
Subdivision level
Marker and pins
Water level
Light settings
Texture editor
14 edge textures or custom color
8 Skybox sets or custom color